"Great Reindeer People of Siberia"
Ethnographic journey to the Tofa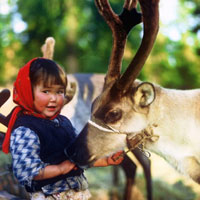 Highlights: Explore unique cultural and nature environment of Siberia's one of the most isolated area inhabited by its smallest and oldest ethnic reindeer herding nationality- on horseback and riding reindeer through the virgin taiga-woods of "Siberian Switzerland", take a chance to watch and take pictures of "dancing with musk deer" , see the Tofa folklore and shaman ritual…
Duration/availability: 14 days/13 nights; June, end- September, mid
Logistical details: After touring most atmospheric sights of Irkutsk and on Lake Baikal take a train to Nizhneudinsk for an overnight (Day 3) before flying to Tofalaria, where we spend 2 days to explore the local cultural environment; then take a 4-day smooth horseback expedition ride to the summer camp of reindeer herders to reach them on Day 09; after stay in their camp proceed with reindeers riding them to the upper reaches of Hunga river. On Day 11 – take 4-WD ride back to Nizhneudinsk for overnight and take then train back to Irkutsk on Day 13. Read the itinerary...

Read a Story about the trip by Victor H. Gaza in the Global Times
"A True Farm & People at Lake Baikal"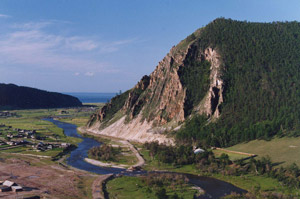 Highlights: Learning Russian people, natural things at Real Horse & Working Farm Environment on Lake Baikal – At "Zarechnoye Estate"! Join in every day farm life, take a horse ride or relax on the verandah of the guest house, enjoy fabulous countryside vacation near beautiful Lake Baikal.
Duration/availability: From 5 to 10 days stay; June-September. Note: on requests winter stay on this farm available. Read the itinerary...